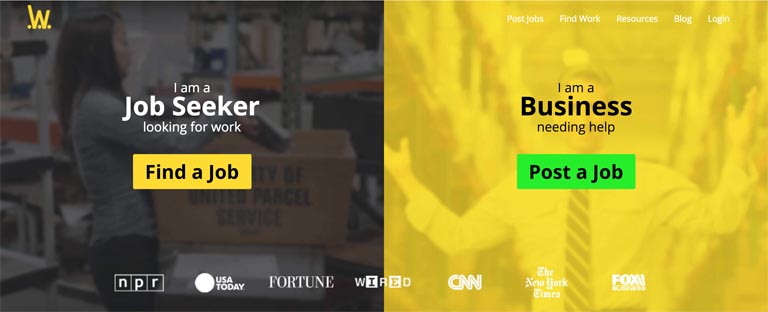 This is the first post of a series of blog posts that I am hoping to write about how companies have created effective teams that are based on trust. Trust and cohesion within a team is so important in a business because it allows a company to get the best out of their employees, and therefore create effective and successful teams. Due to the importance of trust, and how much it can benefit businesses, I am wanting to explore more how different teams across the world, some with large teams and others with much smaller teams, have developed trust within their teams.
The first company I will explore is Wonolo. Founded by Aj Brustein and Yong Kim, Wonolo is a platform in which workers can be matched to companies which they are a great fit to, and they can make choices flexibly based on their priorities. Wonolo believes that employees will be more empowered in a company this way, and that their tool creates a smarter way to match supply and demand in business.
Potential employees can sign up to Wonolo to create a profile, and business can create profile to find employees that fit the preexisting culture of the company.  Wonolo boast benefits such as saving time as you can find relevant employees in minutes, having no upfront costs, and saving your company money.
Wonolo has employees in San Francisco, Philippines and Vietnam and like all business that have employees all over the world,  team effectiveness and employee happiness is very important to Wonolo. So, we interviewed John Flaaten, the senior director of business operations at Wonolo, to see how Wonolo grew an effective team with employees from all areas of the world.
Here's Wonolos story on how they developed trust within their ever growing teams…
What's the story of how your team got started? What were the early days like?
As Wonolo's customer base grew we realized there was a growing need to invest in customer success and business operations to support a growing marketplace. In the early days, it was me and an operations analyst. We ran at problems and learned quickly on the path to growing a team.  
What do you consider to be an effective and productive team?
A team that trusts each other. Business Operations at Wonolo is largely a service layer supporting market operations and customer growth. At the surface, it appears simple. Account Managers interface with customers but rely heavily on internal operations teams to fill jobs and meet customer requests. Without trusting the different internal support layers it all falls apart.
What, in your experience, is the most important aspect of building an effective team?
A diverse group of personalities. I've had success building teams that are constantly learning from each other. Everyone has a different style and team diversity helps push individuals to approach and think differently about problem-solving.
When new employees join your team, how do you integrate them into your team's existing culture and working style?
Meet outside of the office to get to know each other on a personal level. An important first step to building trust. From there I focus my time sharing the organizational structure and support resources a new team member can lean on. Functional onboarding is a divide and conquer approach, but I generally like to get out of people's way. Allow the autonomy and creative space to apply what's worked for them in the past. Many times a learning opportunity for me.
What role do you think personality plays within a team and the workplace? Do you use personality tests in your team?
I do not use personality tests, but incorporate personality into how I communicate and work with different team members. Over time you learn what motivates employees and what they are and are not receptive to. All ties back to setting team members up for success.
Do you have any favorite team building exercises focused around promoting trust and cohesion?
Problem-solving activities such as an escape room or going to a local trivia night.
If you noticed the employees in a team were lacking in cohesion and trust between them, what would you do to fix it?
I open my bi-weekly 1on1s with "How are you feeling?" to encourage open communication. If anything comes up I generally like to address an issue head on to prevent building frustrating. Mostly everything can be solved by putting it all on the table and talking through it.
What would your advice to be someone who is starting to hire and grow a team for the first time?
You will never have all of the answers. Don't be afraid to ask your team for suggestions. Hire those that have been forced to be resourceful and entrepreneurial.